This weekend was the global premiere of the new Warren Miller Entertainment film, "Like There's No Tomorrow," and I'm so stoked to announce that I had a part in the Salt Lake segment.
There was so much anticipation leading up to this event for me. As athletes, we put our heart and souls into projects like these. A wise mentor once told me not to claim your accomplishments until you see them in print or on the big screen. Photo editors change their minds last minute and will replace one image with another and athlete's video segments get cut from ski films all the time. So until I knew 100% that I would be in the film, I tried to keep this hush hush just in case. But I started getting calls from Warren Miller about the premieres and then they started lining up a big press tour for me, I couldn't help but get excited. Leading up to the event, the Warren Miller P.R. team had me doing interviews on Fox 13 Good Day Utah, Park City Television, ABC 4 with Brian Carlson, X96, the Josh Tolley radio show and a spot on Jonny Moseley's radio show. Wow! Media blitz. It was a whirlwind and I loved every minute of it.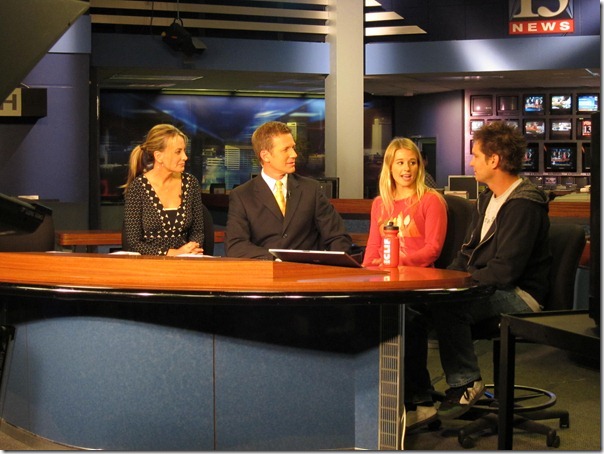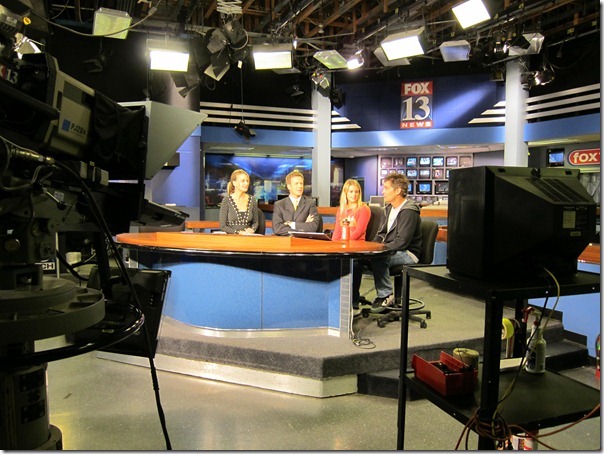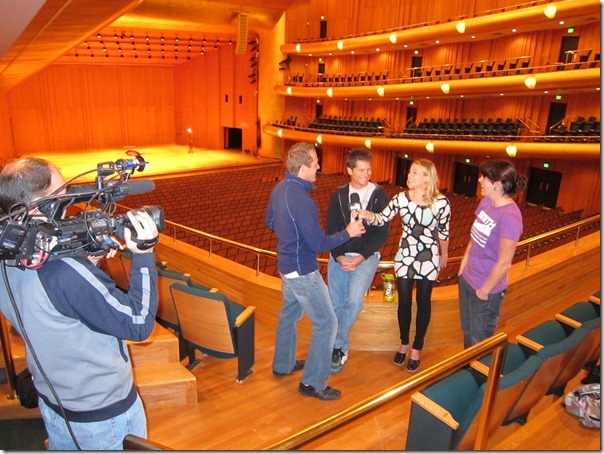 The actual premiere night was one of the best nights of my life. We started with the press conference. I've always admired Lynsey Dyer, Rachel Burks, Michelle Parker, Lel Tone and Jess McMillan and I was so stoked to hang out with these female freeski legends! I got to meet Jonny Moseley, Seth Wescott, Andy Mahre, Steve Nyman, Chris Davenport, Hugo Harrison, and Daron Rahlves. And of course, the local Utah boys – Sam Cohen, Ben Wheeler, Brant Moles, Carlo Travarelli, and Leo Ahrens. Honestly, I was so honored to be there with this crew of ripping skiers. I kept pinching myself to remind me that this was real and I wasn't dreaming. Then there was the film production crew – working with Tom and Danny Day and Colin Witherill was so fun. They make filming feel like a normal day hanging out with friends. I felt so comfortable on camera when they were interviewing me and it really showed in my segment. And the Squaw Valley section with Tom Day's classic ski footage was one of my favorites.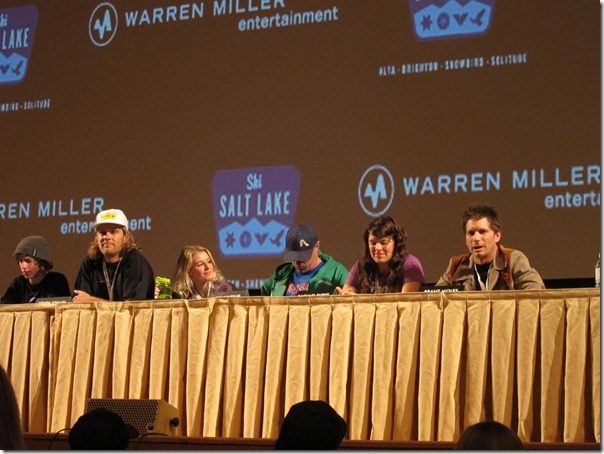 It was so special to me that my first part in Warren Miller premiered globally in my hometown of Salt Lake City, UT. I was so happy I almost cried! When my segment came on, I loved every second of it – the deep powder turns, the cliff drop with the grab, the shot of the Snowbird billboard and my explanation of SLC mountain culture. The whole experience has been amazing. I was just smiling and laughing the entire night.
My favorite part of the premiere was talking to all the fans who came. There were so many kids there too- it's great to see the next generation of skiers! I had a blast talking about where they like to ski or snowboard and answer any of the questions they had for me. As athletes, we spend a lot of our time in the gym training, on the slopes working on getting shots, skiing big lines or on the internet writing blogs and bios and fulfilling sponsor obligations. It's so refreshing to interact with real ski fans! I really hope to take some turns with any of the local fans who came out to the premiere. If you see me on the slope (I usually wear a pom pom hat, pigtails and a bright jacket), please say hi. I hope I inspire you to follow your dreams and get out there and shred this winter!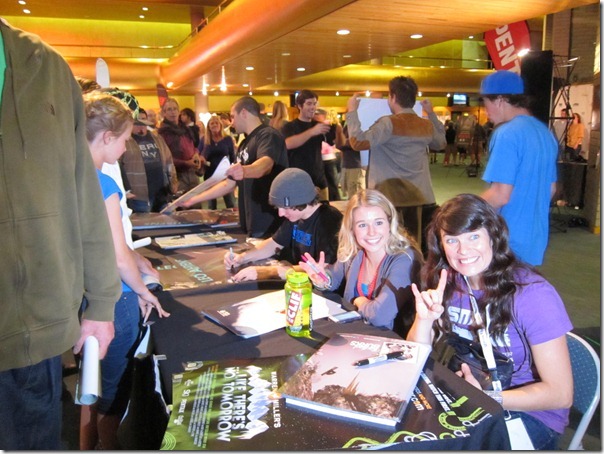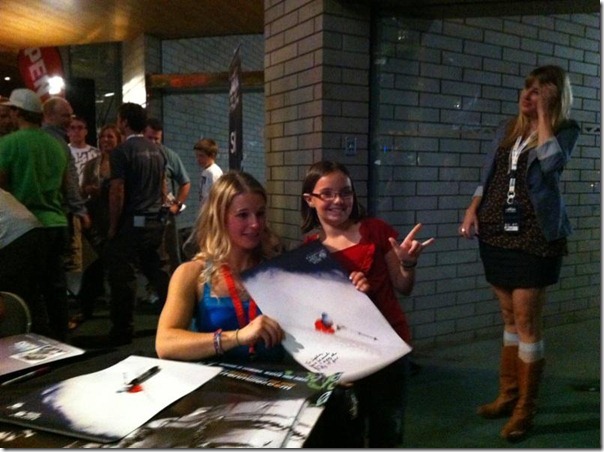 A big thanks to the Warren Miller crew – Sally Francklyn, Anna Biggs, Nancy Richter, Ryan Thompson and everyone else – for organizing everything. Also thanks to LevelNine Sports sports, Ski Salt Lake, Abravanel Hall for hosting us and all the news stations and radio shows that had us on. Next week is the Park City premiere, so be sure to get your tickets. To find a Warren Miller show near you, go to their website: http://www.skinet.com/warrenmiller/events
"Because if you don't do it this year, you'll be one year older when you do."
Hope to see you there!
Here are some of the TV interviews I did last week.
Steve Nyman, Brant Moles and Caroline Gleich on PCTV's Mountain Views