Every year, tens of thousands of men sprout mustaches to take part in Movember. For those of you unfamiliar with Movember (the month formerly known as November), it is a worldwide movement to raise awareness for men's health issues, specifically prostate cancer.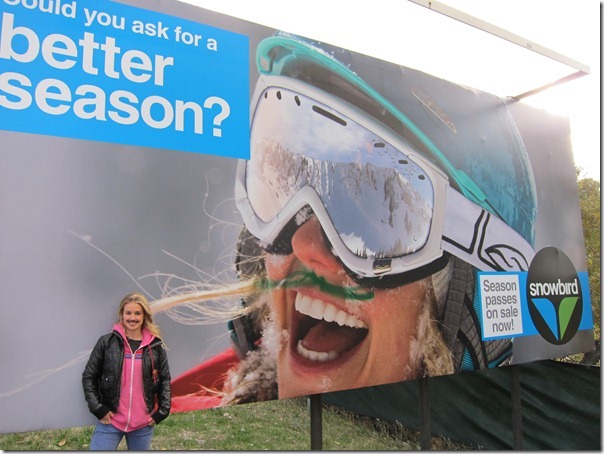 When someone decided to give this lovely Snowbird billboard a mustache, I thought it would be the perfect opportunity to embrace this cause and participate by donning a mustache myself.
How can you get involved? Registration starts November 1 and you start with a clean-shaven face. For the rest of the month, grow your best 'stache – whether it's handlebars, fu man chu, or the walrus. Go wild! Raise funds online by seeking sponsorship for your facial hair farming efforts. Don't forget to claim them. Make sure to talk about why you are doing it to start conversations about men's health. Men typically put off visits to the doctor and pay less attention to their health than they should. With knowledge and education, men can increase their chances of early disease detection, diagnosis and effective treatment. Girls – let's rock some mustaches too. Spread the word. Let's save some bothers.
At the end of the month, celebrate by throwing a Movember party or attending one of the infamous Gala Parties held around the world.
Prepare for Movember.
Learn more at http://www.movember.com